Hey Bitch, Kreayshawn Revealed The Tracklisting To "Somethin' Bout Kreay"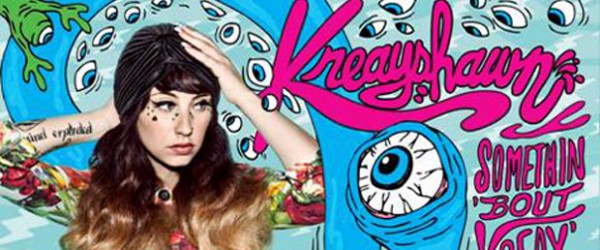 Hey bitch, Kreayshawn finally unveiled the tracklisting for her debut album "Somethin 'Bout Kreay." Due September 18, the 13 tracks include "Gucci Gucci," "Breakfast (Syrup)," and "Go Hard (La.La.La)," with features from Kid Cudi, V-Nasty, Sissy Nobby, V Nasty and more.
As reported yesterday, Kreayshawn will start her journey on the "Group Hug" tour with female rappers Rye Rye, Honey Cocaine and more.
Check out the tracklisting via iTunes y'all bitches!
Somethin 'Bout Kreay Tracklisting

1. Blasé Blasé
2. Ch00k Ch00k Tare (feat. Chippy Nonstop)
3. Gucci Gucci
4. Summertime (feat. V-Nasty)
5. Left Ey3
6. Like It or Love It (feat. Kid Cudi)
7. K234ys0nixz
8. Bff (Best Friend)
9. Twerkin!!! (feat. Diplo & Sissy Nobby)
10. Breakfast (Syrup) (feat. 2 Chainz)
11. Go Hard (La.La.La)
12. The Ruler
13. Luv Haus