Nicki Minaj's New 'Pink Friday' Fragrance Is A Busty Fembot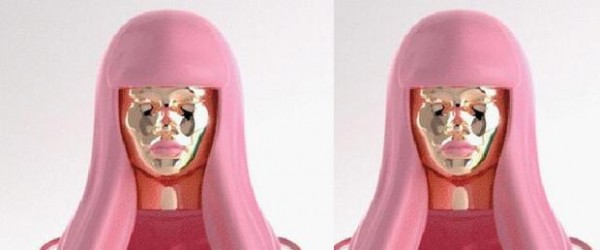 While Rumors are flying everywhere about the next "American Idol" judge, the queen of rap, Nicki Minaj took to Twitter on Tuesday to unveil the details on her latest venture: her perfume bottle, which is set to be released around the end of September.
Many of her fans will love the pretty bottle of her "Pink Friday," which features a brassy mini-bust of Nicki Minaj with her trademark pink hair and, for added class, a push-up bra. So what does her new fragrance smell like? Read Nicki Minaj's tweets below.
Like angels playing > RT @bringthebill: @nickiminaj it looks fucking awesome what does it smell like?

— Nicki Minaj (@NICKIMINAJ) August 21, 2012
Barbz, I'm glad you're on time 4 our mtg. Let me know when this trends: #NickiFragrance *runs off laughing as the barbz give me evil glares*

— Nicki Minaj (@NICKIMINAJ) August 21, 2012
Barbz, the surprise is this: tomorrow morning, I'm tweeting the perfume NAME & BOTTLE!!!!!!!! 9amEST!!!!!!! Mmmmuuuaaaahhhh!!!!!!!

— Nicki Minaj (@NICKIMINAJ) August 21, 2012
End of September!!!!> RT @candaceminaj: !!! RT @welshbarbpaige: @nickiminaj I need to get my hands on it now , release date plz Nicki ??

— Nicki Minaj (@NICKIMINAJ) August 21, 2012