Azealia Banks Kunts Apology To Kreayshawn For Calling Her A Dumb Bitch, Collaboration Coming Soon!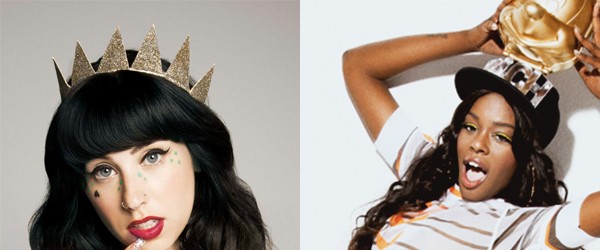 It was just last week that Azealia Banks had Nicki Minaj and LoLa Monroe on her mind, now the kunt rapper has Kreayshawn on her radar to kunt!
Earlier this year, everyone's favorite kunt Azealia Banks tweeted(kunted) Kreayshawn this message : "You're a dumb bitchh. And you can't rap. I'll sit on your face … Fall back slut," after she retweeted a link to her video through PornHub.
Azealia Banks took to twitter Sunday to apologize for her kunty tweet earlier in the year to Kreayshawn and it seemed like the two female rappers hit it off well because it looks like now they are collaborating! Oh, and Angel Haze will be on the track as well! I wonder though if Azealia Banks will soon kunt that up and claim victory on twitter again?!
"@azealiabanks: @kreayshawn I apologize for coming down on you so hard earlier this year." It's all G! I fux with you music above all!

— BABY KREAY (@KREAYSHAWN) August 5, 2012
@nativeraeen @kreayshawn I have the perfect beat. We just all have to be in the same city to get it done.

— ? YUNG RAPUNXEL ? (@AZEALIABANKS) August 5, 2012
Wooo RT @azealiabanks: @kreayshawn lets collab. Let's throw @nativeraeen in the mix there tooo.

— ?Angel Haze? (@NativeRaeen) August 5, 2012